Event Details
FREE to Members - Hats Off to Our Members
Date:
June 19, 2019, 5:00pm – 7:00pm
Organizer:
Location:

The Boot Grill
4164 Clydesdale Parkway
Loveland, CO

Price:
Event Type:
iCal link
NCHRA Presents Our Annual
Membership Appreciation Event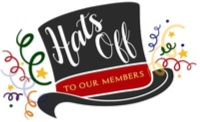 We invite you to join us for an evening of fun, food, and free stuff! Below you will find the details of the event.
Each member who attends can receive up to 3 raffle tickets for our fabulous prizes (1 for attending, 1 for bringing a guest, 1 for renewing your annual membership).
Memberships are discounted for this event ONLY, so make sure you attend to get the best bang for your buck.
Our theme this year is 'Hats Off to Our Members'!!! That's YOU!!! We will have a Best Hat In Show contest, so bring your wackiest, prettiest, biggest, or most sophisticated (or whatever you have in your closet) hat you have and enter to win great prizes!